Rick Lau
Does fixing patient engagement and preventing patients from self discharging sound appealing to you?
Hopefully the answer is yes. After all, who wouldn't say yes to that.
Are you interested in working smarter, not harder?
Hopefully the answer is again a resounding, yes. The goal of any business should be to work smarter, not harder. After all, it means more time for you while the business still makes money and continues to grow.
I recently ran a 2.5 hour 'sold out' workshop where 60 clinic owners attended. At the workshop there were all types of awesome clinic owners from a wide variety of niches – pediatric, neuro, sports, rehab – from small clinics through to large multidisciplinary clinics.
Despite having differences, I know they all agreed that the goal of earning more revenue in a smarter way, was a goal they'd all like to achieve.
The secret is fixing your patient engagement.
In this blog today, I want to share 3 critical first steps (from this workshop) you need to take to instantly engage patients so you can prevent them from self-discharging, maintain their engagement through the entire customer lifecycle,  and instantly lift your practice by around 30%.
Let's dive in…
Your one major goal as a clinic owner
Before we move into the critical first steps to fix the whole patient engagement problem, I want you to realize your one major goal.
As a clinic owner, you need to look at your clinic like renovating your house.
Every addition you make, every tile you lay, every brick you mortar into place, only adds value to your house when you go to sell it. It also adds a ton of value in the short term too — because you get to enjoy the living experience more.
The same is true for your clinic.
It's a house you must keep investing in so you can reap the rewards both now and in the future.
Though many clinic owners think they are in fact investing, much of the time, they're not. They spend too much time working IN the business. And not enough time working ON the business.
There is a big difference between the two.
While you may have to work IN your business as one of the clinicians or as part of the managerial or front desk staff. There's only so much YOU (as one person) can do.
If you push and push, you'll be working HARDER and the business may grow. But sooner or later you'll probably burn out and even get sick and tired of running the practice so you'll end up selling it for nicks, or simply closing the doors with nothing in return for all that hard work.
On the other hand, if you invest in systems and your people, they can do the work efficiently and the systems will streamline things so that you don't have to work so hard and the business keeps growing and growing.
Then one day when you're ready to retire or move on, you have a valuable asset to sell so you can sit back and enjoy your retirement. Plus, in the meantime, your business is a more pleasant experience for both staff and patients.
That's SMARTER business. Don't you agree?
From building a network of over 100 clinics, to being the CEO of CSC and the founder of CallHero, and a speaker at national conferences – I'm proud to say I did breakthrough to become a smart healthcare entrepreneur.
It wasn't always like this for me either, but I'm living proof that you can work smarter and not harder.
Since serving clinic owners is my passion, I'm always looking for ways to share what I've learned to help YOU succeed!
The key is to get patient engagement up, period.
The average statistic: 20% of patients drop off after just 3 visits
Yep, the hard cold truth is your patients are more loyal to their hairdresser than they are to you and that is a BIG problem, big!
These days, patients are consumers. There's a lot of noise in the marketplace. And this noise makes it easy for them to think someone else (your competitor) is better for them. They can flick that consumer choice switch any second.
Patients want (and need) your help to consistently guide the way and show them you're the best choice. You need to be in front of them constantly. You need to be showing them proof so that other shiny objects don't get into their psyche.
While there are literally a ton of things you can do to increase patient engagement, I want to cover 3 critical first steps to get in line, before you do anything else.
3 critical steps to fix patient engagement
#1: Build a killer website
The patient's journey and therefore, the patient experience, starts well before they have personal contact with you. It starts online. And it starts with their very first impressions of what they see online.
Digital is the new marketplace and your website is your piece of online real estate. When people find your website you want to make a GREAT impression.
Make sure your website is professional looking and provides plenty of information for the patient to make an easy decision.
Don't hide your team. Have friendly pictures with information about each team member. And ensure you describe your services and explain to patients how you can help them.  Here is a good example from Physio Room in vancouver.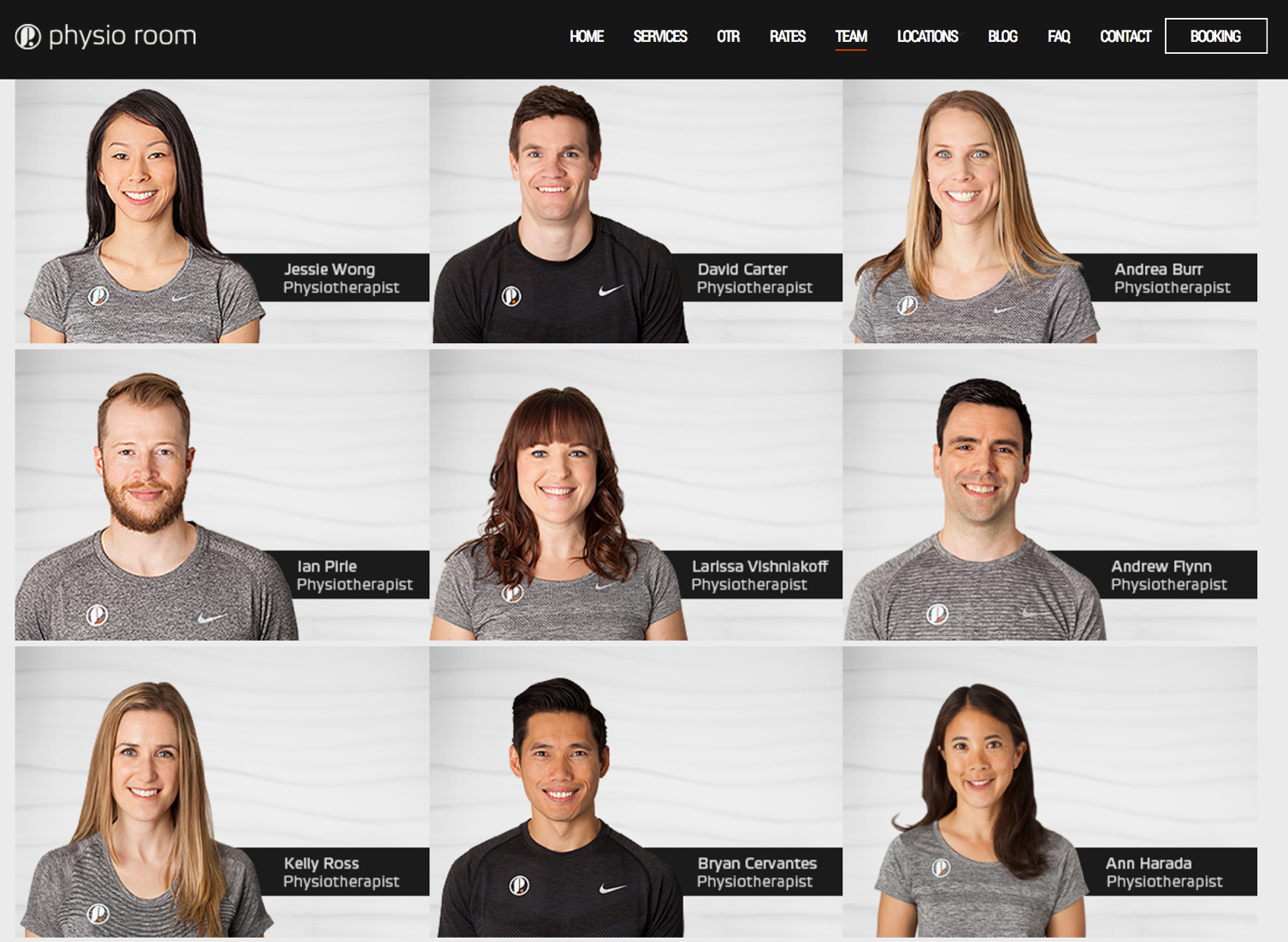 You could also consider writing a weekly blog, to provide content that helps patients see you as an expert and further guides their decision.
Keep things on your website clear and simple but at the same time WOW them and entice them to choose (buy from) you.
BAM — they are already more engaged.
#2: Gain Google reviews
The days of the Yellow Pages are long gone. Today, people have their directory in their hands 24/7 – their smartphone (or other device). They simply pull up a page and search for what they need on Google.
But… when they do, they are confronted with too many choices.
Go search Google your own area yourself and you'll see at least 10 clinic choices within a small radius. Even that is a major obstacle to patients. It's confusing and they want to invest their money wisely.
It's up to you to help them from this very first step by implementing a system to gain Google reviews from patients. Then if they search Google and you come up in the results with more gold stars and reviews, it's an instant form of social proof.
What was the last time you purchased something on amazon without reading a review?
This type of social proof helps guide new and existing patients toward choosing your service because it shows them their money is well invested. After all, these other customers are really happy.
BAM, BAM — with more social proof like Google reviews, you already have the patient at a higher level of engagement.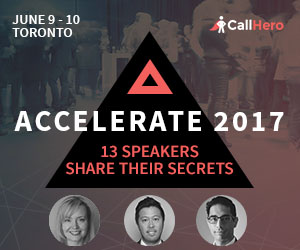 #3: Optimize your incoming calls
The statistics: clinics are only answering 73% of incoming calls.
That's a lot of new patient callers who will go ahead and ring your competitors.
I can't emphasize this enough: ANSWER YOUR CALLS.
There's already 23% of new patients who are already calling your clinic.
Secondly, try not to put callers on hold.
Most will just hang up and ring your competitor. You need to implement a triage system where current patient callers or unnecessary calls get a call back so you can focus on answering NEW PATIENT calls, at all times!
Lastly, train your entire team on phone etiquette.
I've heard so many stories from patients saying they are greeted by an overworked, tired, frustrated and grumpy front desk admin. Seriously, they don't need that.
They need a pleasant, supportive, empathic person on the other end of the phone. A person who can guide them toward a positive solution and choose you as the service provider.
First impressions over the phone make VERY long lasting impressions. And if you can capture those patients by going above and beyond helping them, you have instantly engaged them for a longer period of time.
Phone response and phone etiquette are two critical things that can increase your booking rates and the relationship you build with the patient from the beginning.
BAM, BAM, BAM — you've instantly booked more patients and have a stronger relationship to keep them engaged.
The above three things are 3 critical steps to take because without those things you won't get the initial traction you need.
After that, there are countless internal systems and processes you can put into place to further commit patients to the experience:
Create a culture of accountability
Train your clinicians how to do the perfect assessment
Call patients the next day after assessment
Call patients before assessment with an introduction
Following up with patients who self discharge
Create a new patient VIP welcome line
Remember, all this stuff can be systemized!
Look at your clinic like renovating your house. All of these things you do are adding value to your clinic, they all increase the value of your clinic, both now, and if you want to sell your clinic later down the track.