By Maggie Bergeron
An amazing clinic is only worth developing if it can attract clients. However, for a clinic that's only recently opened, finding clients can be a tricky and laborious task. And while it may be easy to assume that a great clinic should be able to sell itself, more often than not, clinic owners have to go out and build their following first.
Your first patients are your most important ones.
They're with you from the beginning. They're the ones that see you at the start and watch you grow.
And that makes them invested. They'll often become your most loyal and vocal advocates because they've been there the whole time – just like the great aunts that can't stop talking about how cute you were when you were still in diapers.
Finding the right niche of patients is an important priority in the early stages of your clinic. You want to make sure you're surrounding your practice with people that can both further enhance your business and inspire you to keep going.
The perfect clients.
But if you want perfection, you can't wait for them to come to you. You have to go out and find them.
And you can do it with social media.
Instagram is taking over the social media game, and not just for regular people who tend to share photos and videos of themselves with their followers, but for clinics too!
Instagram stories is one of the best ways to share your clinic story, client successes and build a following without the permanency of your other posts.
In this blog we'll outline how to get started on Instagram stories.
Getting Started with Instagram Stories
If you've been thinking about using Instagram Stories for business, now is the time!
Not only are Instagram Stories a fun and creative way to engage with your followers, but they can also help you grow your engagement, build brand awareness, drive traffic and grow your following.
Here are the steps to create an Instagram Story:
Swipe right from your home screen or tap the camera icon in the top left corner of the screen to open the Instagram camera.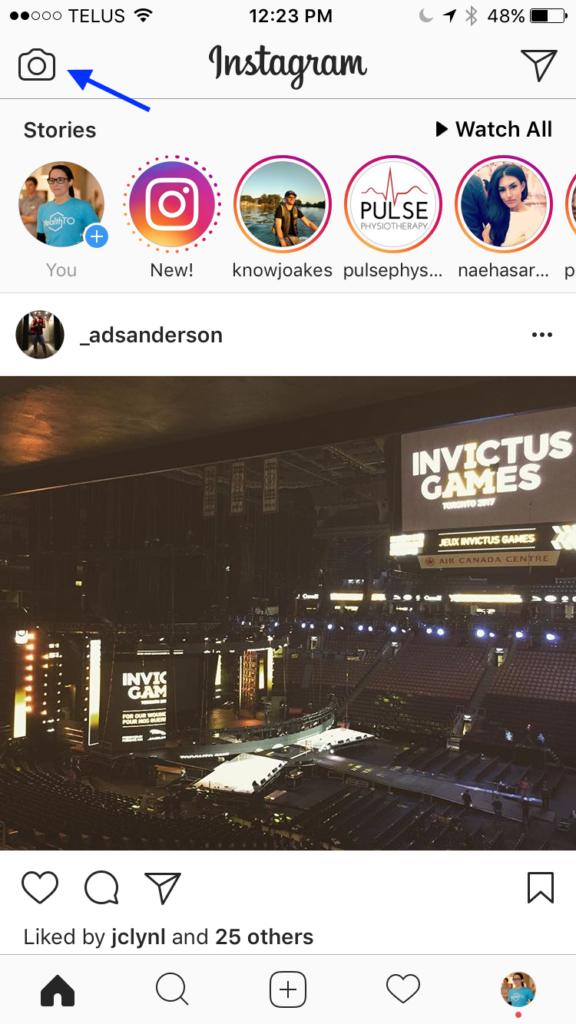 Take a photo by tapping the record button or take a video by pressing down on the record bottom for up to 10 seconds. You can also have the option of taking a boomerang, rewind or hands-free video. Other buttons:

Half moon: Setting that helps you take warmer photos when shooting in low-light conditions
Thunderbolt: Flash button on/off
Arrows: Switch from front-facing camera to back-facing camera
Smiley face: Instagram's new face filters feature which are almost an exact replica of Snapchat's Lenses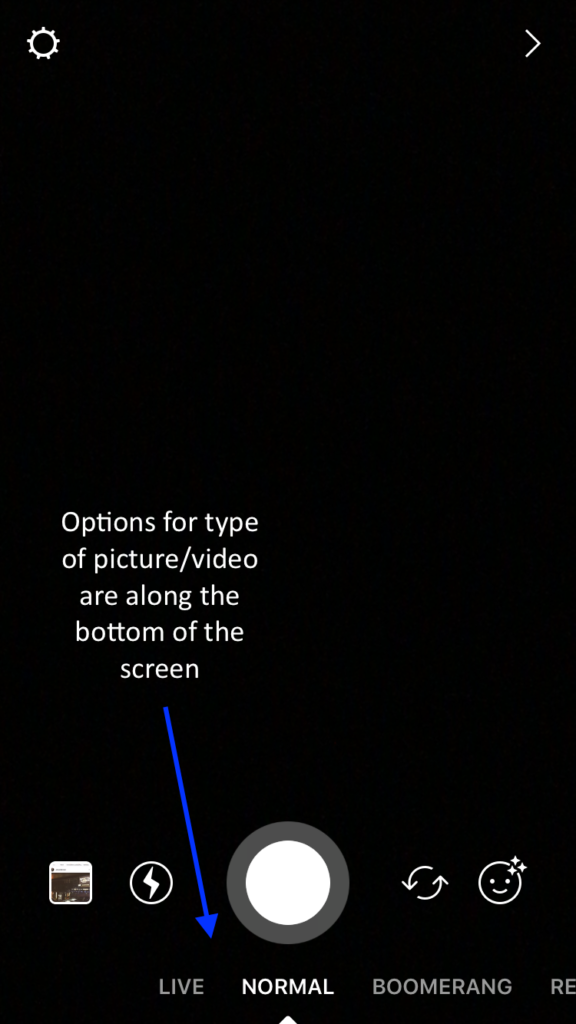 You can also upload a previously taken photo or video from your camera roll by swiping up or down. The photo or video has to have been taken in the past 24 hours.
Tapping anywhere on the screen will bring up the text tool. You can play with text size and color and you can also use the "@" sign to tag another account or "#" sign to share a hashtag. Instagram recently launched the ability to search for Stories by location and hashtag, meaning that if you include a hashtag in your story, other users can see it even if they don't follow you!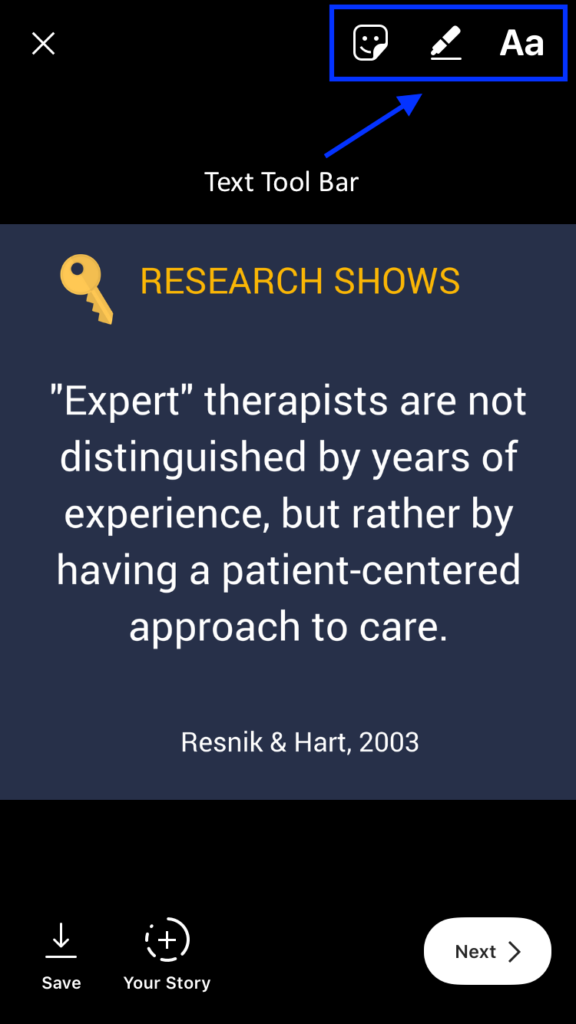 Select from one of three different pen styles to doodle on your photo. You can also erase any drawings that you add to your story with the eraser brush.
You can add stickers by selecting the sticker button in the top right corner of your screen or by swiping up on your story. For example, you can add a location sticker, which lets you tag the location of your story.
You can swipe left or right to apply different filters.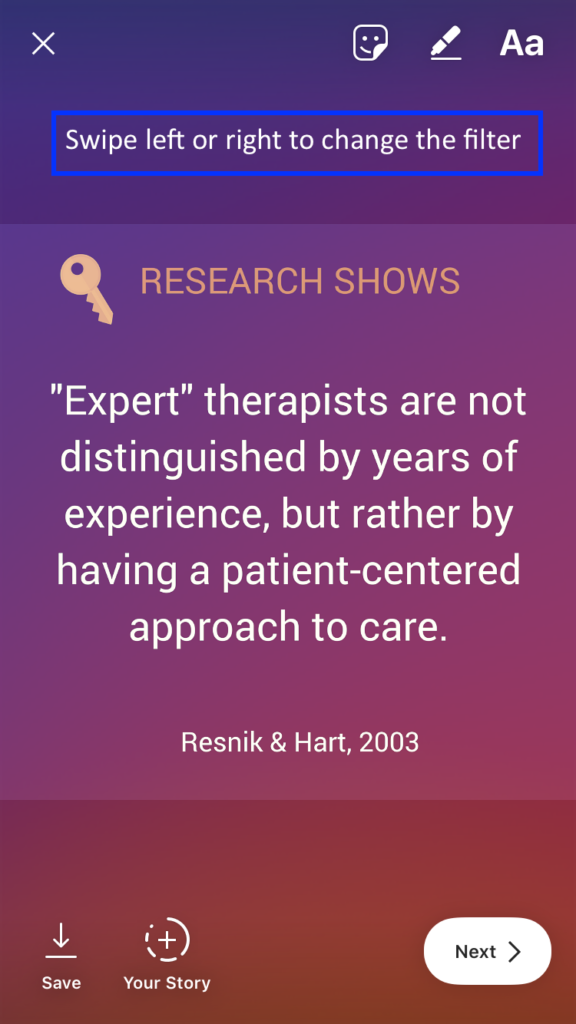 When you're done tape the "Next" Button to share.
Your story will appear at the top of your followers' feed, but it will also be visible on you profile page by tapping your profile picture.
For the next 24 hours your Instagram story will be live. You can find out how well your Instagram story is performing by swiping up while viewing your story. This will display the number as well as the names of people who have seen each photo or video in your story.
If you're interested in learning more, there will be a full professional development marketing course brought to you by Myodetox and Embodia Academy coming soon.
If you want to be the first to know, click here and leave us your email address